eCommerce Website Store Software - V.Commerce
eCommerce Is the backbone of all online transactions. It allows business owners to have full control over their inventory, the addition or removal of products and provides easy and secure online payment for customers.
eCommerce website software has become a business superpower. Over 21% of the world's population buy online, and that number is predicted to continue to climb in the coming years. With its sudden rise in popularity, eCommerce is showing its immense benefits to businesses that choose to use it. Online store software is definitely something that all businesses should be taking advantage of.
Behind the streamlined and easy to use interface, online shops consist of a multitude of complex processes. Online eCommerce software uses these processes to streamline into an interface that even non tech-savvy individuals can use. The best software for an e-commerce website will also allow for the integration of Enterprise Resource Planning (ERP) and Customer Relationship Management (CRM). The eCommerce website software should also facilitate payment gateways as well as social media and email marketing tools. It provides everything your business needs to hold a powerful online presence, under one umbrella.
Our Secure Software Packages
At Verasseti we produce software for a variety of different purposes, using our VSF (Verasseti Secure Framework) that forms the backbone of our V.Commerce software package. Your future or current online shop will not only be fortified but also fast and secure. It's important to protect your business and paying customers from any potential security threats. Our team works to the highest standards to ensure that your business is up to date with security threat detection and prevention software. Trusting in Verasseti's secure V.Commerce software and the team behind, it will provide your business with a secure platform to work from, and build stronger relationships with partners and customers alike.
Our V.Commerce software package also provides your online business with a full disaster recovery system. We can do this because of our state-of-the-art servers and storage systems. They allow us to spot problems and solve them quickly, so you never miss a sale or lose out on business.
Advantages of V.commerce
If you are a small local business or a big name company you need to be taking eCommerce seriously, there has never been a greater advantage to business than to be online in this day and age. From our years of collective experience in online shop software engineering, we can strongly recommend taking a leap forward into true eCommerce with our V.Commerce software package, to facilitate growth and strong connections with customers and business partners.
If you have already taken action on this area already then remember: progress never ceases. Our team at Verasseti are accustomed to working with existing eCommerce businesses, to further modify, strengthen and streamline your online shop. We want to help you fulfil your aims and develop an eCommerce solution that is right for you and your business.
Custom software built for you
We have worked alongside global companies such as GlaxoSmithKline, to create secure and comprehensive software for their business needs. We also work alongside local businesses to create custom online shop software to suit a wide range of applications. With real-time reports and an integrated notifications system you can receive updates through direct message, e-mail or SMS (mobile text) or any combination of these three, so you can closely monitor your business's transactions and manage stock more efficiently.
Shop front & back-end
Choosing our V.Commerce software package means we can help you create a custom shop front to suit your target audience. This will be fully responsive allowing a wider customer base with access to different technologies to browse your online shop with ease. As well as this, our eCommerce software package will give you a comprehensive back office system, allowing you to organise and manage your business with a more streamlined approach. A back office system will give you access to relevant data, help manage staff and automate accounting among other things which will greatly benefit your business.
Custom eCommerce solutions for your business needs
Before you decide what eCommerce software solution is right for your business, you will need to decide what types of transactions will be made. There are four main types of eCommerce solutions, each of which describes a transaction that can take place online. The most common and recognisable transaction is B2C (business to consumer). This is where a consumer buys a product or service from a business website. A good example of this would be the purchase of a computer from a well known reputable brand through their eCommerce website. Alternatively, there is C2C (consumer to consumer). Good examples of these transactions would be selling old furniture or old clothes to other people or private selling. Websites such as eBay or Gumtree would be good, real-world examples of these types of eCommerce sites.
Of course, businesses also do a lot of trade online, where B2B (business to business) transactions come in. A lot of businesses rely on the services of other businesses to run efficiently. A very relevant example being a business purchasing a software package from a software agency. Finally, we have C2B (consumer to business). With the rise of social media influences, we will be seeing a lot more of these transactions, as influencers sell advertising to businesses in the form of posts on social media.
With our V.Commerce software package, we offer a platform in which we can work together to create the best eCommerce solution for your business. You know your business better than anyone, you will need to communicate with us to help determine which of the following eCommerce suggestions best suits your business purpose.
Digital - The purchase of digital material online including, media, online courses and templates.

Physical - An item that is purchased that needs to be sent to the consumer with stock then needing to be replenished.

Retail - a business selling products to a consumer directly.

Wholesale - Bulk selling, often to businesses who will sell on to consumers but isn't exclusive to businesses.

Dropshipping - a sale that is made through a third party and is stored, packaged and shipped by a different business than the one who sold the product.

Services - Paying for compensation of time to someone with a specific skill set, for example, a plumber.

Subscription - Monthly payments by the consumer for a service or product.
In summary, it's increasingly clear that if you are not selling online then you are not reaching a fraction of your target audience. Get in contact with us to help understand how easy and seamless it can be to add our e-Commerce web portal to your existing systems. If you are looking for a secure, easy-to-use and scalable solution for your online business, then make sure you compare the fully customisable V-commerce solution to other potential packages.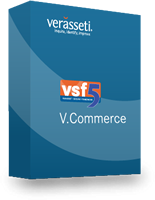 Our Software Packages include: