Customer Relationship Management (CRM) Software - V.CRM
In today's competitive marketplace it is important for your business to be the best it can be. The majority of successful businesses use CRM software to give them the edge.
Verasseti's customisable CRM software is the ideal package for successfully managing all your business data and providing essential relationships with your customers.
Our bespoke CRM software is the solution to manage all your interactions with existing and potential customers and to provide direction for sales. A bespoke solution by Verasseti is the perfect fit for all your business needs and can be scaled to your requirements as your business grows.
CRM Software
You may be considering CRM software because your business isn't growing as you hoped, and progress is slow. Perhaps your sales force are not getting the leads they need and you are looking for a new perspective, maybe communication between departments is not working as it should, or you are using outmoded methods to keep track of essential information.
CRM software can be a revelation for your business, whether large or small. In today's marketplace, businesses need to have as much information as possible about the present and potential customers at their fingertips. In addition, they need to be able to analyse that information and be able to retrieve it easily.
We find that more than half of new businesses are now using CRM as the optimum tool for sales and marketing, and to increase productivity. According to a survey reported by Business Leader, 70% of SMEs are now using CRM. They found the reasons for this were primarily three-fold:- 66% indicated that it was to increase productivity in those parts of their business which deal directly with customers, 62% to add to customer experience and 49% to reduce operational costs.
Our CRM software applications will help your company develop stronger relationships with your customers, identify opportunities, increase revenue from customer interaction, analyse and organise customer information, target customer categories, direct sales opportunities and increase your percentage of conversions.
CRM Solutions
Who can benefit from our CRM solutions?
CRM solutions are the answer to any business which has customer relationship at its heart. CRM is, for example, very beneficial to businesses concerned with marketing and sales, not only at the front end service but also in the necessary, behind the scenes, activities such as keeping track of customer and sales records and analysis of customer interaction with the company. Any type of marketing company is able to make use of CRM software to cost-effectively direct their efforts towards receptive target audiences. Sales can be optimised by identifying customer trends and you will find that you can narrow down efforts towards those customers most likely to be converted. In addition, the opportunities for up-selling and cross-selling can be readily identified.
A CRM solution is beneficial to Startups and both SMEs and large business enterprises. A Startup will want the assistance of CRM to be able to plan their strategy right from the start and to establish good practice for their organisation. For SMEs, where managing departments, logging the information of customers who are in the sales pipeline and identification of potential business opportunity is of foremost concern, CRM software can efficiently manage business activities and accelerate conversions. In the case of large business enterprises, who will have the activities of more staff to monitor and more complex inter-relational exchanges throughout a number of different departments, CRM can act as the backbone of the enterprise linking all activities, data and personnel into a cohesive business unit as well as driving sales and assisting in giving a personal service to established customers.
The Verasseti V. CRM package is able to address the requirements of your business, whatever its size, and is scalable as your business expands. Our package covers all your business activities.
Features of V.CRM
Optimising your opportunities
Keeping track of a large number of complex sales and identifying opportunities can be difficult. Verasseti V.CRM can simplify this for you. It can be used to track the stages of multiple deals as they progress through the pipeline so that you have an overview and can optimise your resources to achieve your sales outcomes. It will improve customer relationship management by giving you the full picture of the customers' needs and preferences, thereby providing you with a better understanding to form a basis for future interactions. As your business grows and the amount of data increases the comprehensive V.CRM adapts to provide you with a scalable solution.
Successful lead management is key for boosting opportunities for high-quality lead outcomes in terms of efficiency and high scoring conversion rates. With V.CRM your sales team can be directed towards the best sales opportunities at the optimum time in order to increase productivity.
Managing your customers' data
You can use V.CRM to keep in touch with all your business contacts, existing clients, potential customers, suppliers, etc., and all the minutiae of interactions which make up the lifeblood of a business. At any one time, you can have an overview of the state of your business contacts and all the documents which relate to your dealings with them. In addition, the advantage of all this information in one database means that it is accessible to multiple users in real time. The V.CRM also ensures that this valuable data is preserved and protected with our proven secure and responsive CRM system. Verasseti's gold standard security system, which is GDPR compliant, will enable you to avoid any potentially damaging and costly data breaches.
Providing the best service for your customers
All businesses know that the key to success lies in your ability to retain your existing customers and obtain repeat business. You can only do this if you have the ability to know your customers through their contacts with you. With V.CRM you can provide a better service to your customers by tracking their interactions with your company so that you can resolve any issues quickly and efficiently. Immediate access to case histories gives an overview of the situation so that you can identify any potential problems or any difficulties which have arisen. Notifications of actions can be made via any combination of direct notification in the system, email or SMS. If you have IP phones you can also use the system to initiate calls to customers or other staff. Using the software you can then record decisions and outcomes which can be fed back into the system providing a knowledge base for future reference.
Managing your business advertising
If you want to increase the exposure of your business to attract new customers you have to make yourself known in the marketplace. It is almost impossible to run several outreach campaigns simultaneously without the assistance of a CRM programme. With Verasseti V.CRM you can identify customer trends and preferences and target your campaigns across different channels to selected audiences.
Day to day operations
Mundane but necessary functions of your business can be automated using V.CRM so that more time is available to do the most profitable elements of your business. Everyday activities such as scheduling meetings, posting reminders, warnings on deadlines, follow up on website generated interest etc. which all take time out of the day can be automatically generated. All these activities can be accomplished with our CRM solution. In addition, the internal contacts within your company and direct access to important data are simplified with our provision of responsive contact management screens for PCs, tablets or mobile phones. Data transfer from other software and from third-party tools is easy, and access is immediately provided from anywhere to all the required parts of the business in real time. Integration with existing databases or Sharepoint can similarly be accomplished with ease.
Analytical data management
A business can only be successful if its managers are able to have access to the necessary information on which to make business decisions which will drive the business forward. Verasseti V.CRM provides that business intelligence tool. Managers are able to keep an eye on productivity and drill into the sales or marketing pipeline to identify errors and opportunities. Analysis of key metrics, past records, current models or future trends can be built into custom reports including graphical dashboards and statistics which can be evaluated on a time selection basis. In addition, real-time updates are provided which can be viewed on a number of different portals, including via mobile phone.
Why your business needs CRM
Gartner is the world's leading research and advisory company. Every year it makes predictions about the CRM market with reference to advice for business. Gartner's "Predicts 2019: Customer Service and Support" provides an opinion on what trends are likely in the future. The use of CRM cloud-based software by business companies has increased from 12% in 2008 to 87% in 2018, and Gartner predicts that this growth will continue over the next 4 years. The consequences for businesses which don't invest in CRM software are considered to be profound, not least in the fields of privacy violations and GDPR sanctions.
Verasseti V.CRM is dedicated to making business better. Why not contact us and discover what we can do for you?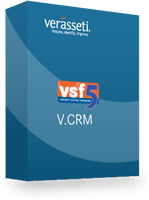 Our Software Packages include: